Candlestick trading strong buy pattern Long shadow + Long body
This candlestick set pattern is strong buy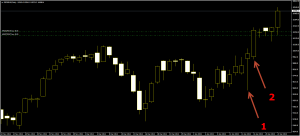 In the last 2 months "bar 1" is longest lower side hege (shadow) and close.
"bar 2" long body same as bar 1 lower hege and close.
then, buy.
Target?
same as bar 1 lower hege.
(if bar 1 lower hege=100, target=100)
Stoploss?
bar 2 low.
You want more profit?
It's easy.
In the last 2 months
longest hege appear and close. (bar 1)
then, Go buy.
bar 2 close.
set target same as bar 1 lower hege.
"Stoploss"
first-time bar 1 low.
bar 2 appear and close.
then, move stop loss to bar 2 low.
you can 2 times take profit.
This candlestick set pattern trading effective in a daily time frame.
Candle Pattern Stages
If traders have to rely on the candle patterns for their investment decisions,
they must know all the basic things about the candle patterns and their stages.
They have to possess the basic ideas on which pattern they should emphasize on or they should ignore.
There are 3 basic pattern stages.
The first stage is the "Trend".
The prerequisite of any candlestick pattern is the price should be in a trend.
It can be in an uptrend or downtrend,
but without a trend, the candle patterns cannot be predicted.
The second stage is the pattern included in that trend.
Blindly following just the pattern without noticing the trend can actually be a harmful decision.
So a candlestick can only be predicted properly if they are included in a trend.
The third stage of the candle pattern is the confirmation of the pattern.
Every pattern has its own confirmations signs.
Traders have to find those signs to confirm the pattern and then predict the situation.
The patterns are commonly bearish,
bullish or continuation patterns.
A bearish pattern comes after an uptrend and closes with a downtrend.
A bullish pattern situates exactly in the opposite condition.
It starts with a downtrend and closes with an uptrend.
A continuation pattern is most of the time observed closely by the traders as there is a huge risk in investing in this kind of situation.
Only experts can predict this type of situation correctly.
Many people confuse the reversal patterns in a prediction that it will always turn into the opposite trend.
But I reversal patterns,
the market can reverse or simply continue the price they were possessing before.
It's not always about the opposite trend.
Before starting investing according to candlestick pattern,
traders should know that candlestick patterns can only influence the market for a short time,
so there is no surety that the patterns can be 100% accurate at the time of your investment.