CFD US30USD Candlestick lost Direction Trading
US Index lost direction
Price go down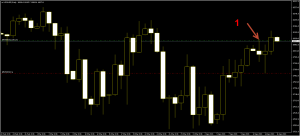 #1 lost direction candlestick
target= lost direction bar low
video click here
Price Action Trading- Candlestick and Trends
Price action trading or naked trading is based on price movement of the market.
To do so the price action traders need to see the price movements of the market.
In most cases, these traders use candlesticks or bars to observe the price movement of the market.
Candlestick charts are one of the oldest trading tools used by men.
Candlestick charts are short period tools which is basically the visualization of the price movements in the market.
There are more than 100 patterns found in candlestick charts.
Knowing every pattern and interpreting these patterns is not an easy work.
The first step of being a candlestick expert is to know the basic things about the candlestick charts.
Without the basic knowledge none can understand why the patterns are forming and what the patterns' formation mean.
The next step is to follow the candlestick charts and the market carefully.
By regularly following the market the traders can watch the effects of the candlesticks in the market and vice versa.
The best way is to learn about all the patterns one by one.
Trends are one of the important factors of price action trading as well as candlestick charts.
A trend is established once the market has formed three or four consecutive legs, e.g. for a bull trend, higher highs and higher lows.
The higher highs, higher lows, lower highs and lower lows can only be identified after the next bar has closed.
Identifying it before the close of the bar risks that the market will act contrary to expectations and leave the trader aware only
that the supposed turning point was an illusion.
Trends can change the meaning of any candlestick pattern.
Trends are also used to identify different patterns and using them in the trading.
So, the knowledge of candlestick charts and trends are very important for price action traders.