color and double blocks
readers message
———————
I hope you are still fine.
On this chart (GBP/USD daily), I show 2 "color" patterns : so can I take both patterns with buy / sell stop orders (the very small candles in the patterns are for sunday) ?
I also see some "double blocks" patterns.
So, here are my questions :
after a double block, may I set a buy stop order at the top of the bullish (red / red / green / green) pattern, and a sell stop order at the bottom of the bearish pattern ?
or do you also use buy AND sell stop orders on the same double blocks pattern (as for the "color" pattern)
can I trade both "color" and "double blocks" patterns at the same time, safely (it will mean, for example on GBP/USD : 2 "color" patterns and 1 "double blocks" pattern : 6 pending orders) ?
I must tell you that for the moment I'm happy with this kind of trading, as you see on my new trading journal (6 closed trades, 6 wins / 4 opened trades, 1 winning that I will close, 3 loosing for the moment).
So I tell you a BIG thanks.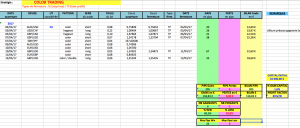 ———————
you can take both pattern
after a double block,
you can set buy stop order or sell stop order
also use buy AND sell stop orders on the same double blocks pattern
yes you can trade both "color" and "double blocks" patterns at the same time, safely
great result
keep on good trading