create double block pattern on daily TF
reader's message
——————
Sir,
Please give me your opinion in USDJPY currency .Sir see my attach
file, is this a create double block pattern on daily TF, ( can i go
for sell trade ). I will be waiting for your best response.
Thanks.
——————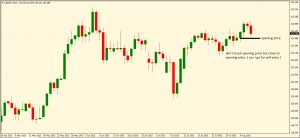 very nice.
also sell force candlestick appear
so you can sell
Price action trading and its components
Price action trading is the basic trading method of the market.
In this method, traders use their intuition and price movement patterns to make a decision in the trading.
Price action trading has various components and traders need to have clear concepts on these components.
Trends are the most important factors of this trading method.
When a market has been trending significantly, a trader can usually draw a trend line on the opposite side of the market where the retraces reach.
Any retrace back across the existing trend line is a 'trend line break' and is a sign of weakness.
This is a clue that the market might soon reverse its trend or at least halt the trend's progress for a period.
A trend channel line overshoot refers to the price shooting clear out of the observable trend channel further in the direction of the trend.
An overshoot does not have to be a reversal bar, since it can occur during a with-trend bar.
A strong trend characterized by multiple with-trend bars.
It has almost continuous higher highs or lower lows over a double-digit number of bars are often ended abruptly by a climactic exhaustion bar.
It is likely that a two-legged retrace occurs after this, extending for the same length of time or more as the final leg of the climactic rally or sell-off.
When the market reaches an extreme price in the trader's view, it often pulls back from the price only to return to that price level again.
In the situation where that price level holds and the market retreats again, the two reversals at that level are known as a double top bear flag or
a double bottom bull flag retrace will continue.
There are lots of things traders need to know to be an expert price action traders and observing the market is the best way to do it.
Strategy for USDJPY Currency. Which I will use M15 , M30 & H1 time frame