focus on color and double block
readers message
———————
I hope you are still fine.
May I ask you a question ?
Here is my trading journal (attached file) : not bad but not optimal.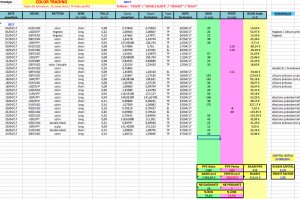 I like "color" and "double block", so I take many trades on my favorite pairs (the main ones) :
AUDUSD, EURUSD, GBPUSD, NZDUSD, USDCAD, USDCHF, USDJPY, EURGBP, EURJPY, GBPJPY.
Now I think that this strategy gives wins if we get MUCH trades.
So should I look for :
other pairs like AUDJPY, CADJPY, CHFJPY, NZDJPY ??
What other patterns should I look for other trades (other than color / double block) ?
You told me that "hegeset" wasn't as effective, as it was showing supports / resistances.
Thank you for your answer.
———————
you can add these pairs
i recommend focus on color and double block
"hegeset" is shadow pattern to identify support and registance
but color and double block is body color pattern
so if you identify color double block and hegeset then confuse your trading decision
so i recommend focus on color and double block
Video here