price touch double block high or low then place order
readers message
———————
Hello Long,
Here is a chart of AUD/USD, with a double block pattern.
(exclude the
Sunday
candle).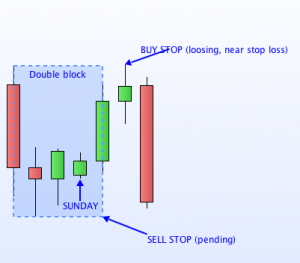 I did set a "buy stop order", it was triggered.
The position is very near to the stop loss (where there is a "sell stop" pending order).
What was wrong with my trade ?
Just bad luck ?
(my opened trades are for the moment loosing : long NZDUSD, long USDCHF, short EURGBP… I will wait until stop loss or take profit).
Thank you
Best regards,
———————
to accuracy trading
if last bar touch double block high or low
then place buy stop order or sell stop order
in this case last bar touch double block high first
at this time place sell stop order
video here