Trading money manegement if you continuation win then decrease lot
readers message
———————
Thank you Long.
I have a problem with my trading journal (attached file).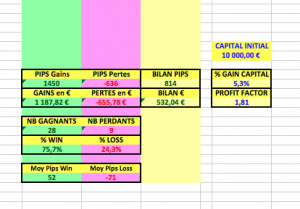 I did earn 1450 pips (1187€) and lost 636 pips (655€).
Because of my money management (1 to 1,5% risk per trade),
even if I did earn more than twice pips that I did lost,
I didn't earn so much money (profit factor 1,81 for money, whereas the profit factor is > 2 for pips).
So, what should you advise me :
trade with 1€ / pip (a stop loss could cost 0,5% to 2%) ?
or continue with a fixed stop loss of 1% ?
I often see on your videos that you trade with 0,01 lot (so don't you calculate the stop loss each time ?)
Anyway, I'm satisfied and I thank you for that 🙂
Thank you.
———————
example
just change lot size
here is las vegas management example
First 2lot
if you win then 4lot trade
next if you win then decrease to 1lot
if you loose next 2lot
you can change to micro lot as your account
here is point
if you continuation win then decrease lot
video here,