You can 90% Wins
reader's message
——————
Hello Long,
Thank you for this course.
I really would like to trade such as you, with 90% wins…
Best Regards,
——————
Window open(gaps) appear
Next bar long body then trade.
You can 90% wins
This is FR40eur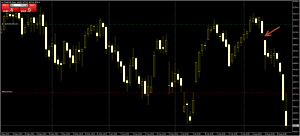 France index CFD
arrow shows window.
Confusions about Price Action Method
There are lots of misconceptions about price action trading.
Many people think and say that price action is not a system and it is the way markets move.
But this is not totally true.
Just because traders are looking at blank charts with no indicators on them, it doesn't mean that they are looking at the 'real'
market information and are able to see through the noise.
Pinbars, engulfing bars, support and resistance and any other candle pattern or price action concept is nothing but a trading system.
And it's definitely not the way market moves.
Every tool a trader uses, regardless of whether it's an indicator or a price action pattern, it only serves the purpose to gain knowledge.
So, this is also a technical analysis and a system of analysis.
Many people also say that price action trading has always worked and it will always work
Though the accuracy rate of price action trading is higher than the other methods, this method can also fail sometime.
There are lots of controversies and differences in the actual market that cannot work in price action method.
By keeping those questions in your mind, you will be able to more accurately estimate whether you would have made money by analyzing old charts.
Thus, price action is not the Holy Grail that has been around forever it's just a trading tool that will provide entry signals from time to time.
In many cases, it's no different from an indicator.
So, traders should not follow them blindly.
By practicing trading and observing the market, anyone can be an expert and trade well.
Knowledge is the power in market and if someone has proper knowledge in any method, they can be successful eventually.
Just following blindly any method cannot be the way of being successful.